Welcome to the Blackmon/Irwin Family
Welcome to our World
Hi, I'm Lanie and my husband is Ron.
We are the cute couple above, cheek to cheek. We have been married now for over 14 years and we live on 20 acres in Corona California, where our home is nestled in a canyon, surrounded by hills and 5 minutes to the major freeway outside mall, movie shows, golfing, restraunts & shopping.
Truly a wonderful place to live and also a great place to raise our 2 Golden Retrievers and Potbelly Pig.
We are very blessed in life and I am very happy.
Never knew life or I, could be so happy.
OUR FAMILIES
Family
A few pictures of the family.
OUR BEAUTIFUL FURKIDS
My furbabies.
It was just Brandi, Ally & Ginger in the beginning.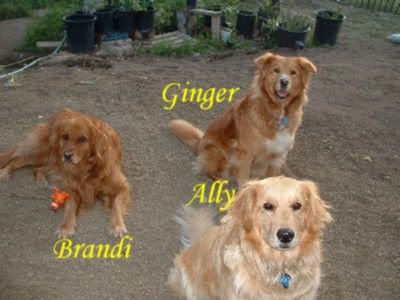 In August of 2005, Brandi got sick.
Brandi passed away June 12th 2006
from Lymphoma Cancer.
Brandi Girl.
I miss her so dam much and I wish Brandi was still here. She was my best friend and I was very close to her out of all my goldens.
I have a page for my favorite Angel Golden,
You can read my story I wrote after Brandi passed away and what I went through after she passed. Just click on the "Angel Brandi" tab up top, & read how Brandi lead me to the Corona Animal Shelter where
I found Rootbeer & Mandi there.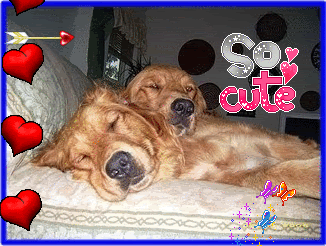 And now I have four goldens.
Ginger, Mandi, Ally & Rootbeer.
Then in June 2008,
Ginger, my first golden I ever had, passed away on
June 18th, 2008.
Ginger was 11 years old and we had to put her down due to Mega Esophagus, which puppies are known to get, not 11 year old healthy & happy goldens.
Ginger lived a very happy, and loving life with us
and we miss her alot.
SOOOOOOOOO,
Then there was three goldens,
Ally, Mandi & Rootbeer.
Four Years go by and then on March 10th 2011
Mandi girl
who was
7 years old, she passed away suddenly, & on
the day before my 51st birthday.
Mandi became ill very quickly and within a week,
we had to put her down.
The Vet said it was internal and I truly believe we made the right choice.
Missing Mandi and her
stubborn ways, and that Diva attitude of her's.
Her brother Rootbeer misses her so much.
SOOOOOOOO,
As of May 2011 I have now
ALLY & ROOTBEER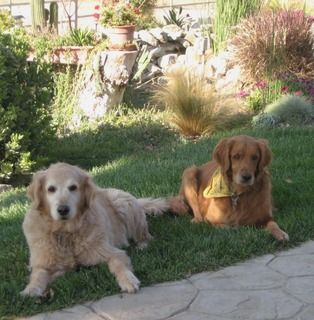 Ally is 10 y.o & Rootbeer is 8 y.o
They are my 2 kids with fur.
And last, my potbelly piggy, who is still with us.
His name is Chance.
I rescued him from across the road at our neighbors house. Chance has been with us since 2004 and is a very happy piggy. I think he's around 15 years old. He has become grouchy in his old age but his curly tail continues to wave all the time to this day.
All God's creatures deserves this.

OUR HOME- BEFORE & THEN AFTER
and
Do you want to see what two determined people (Ron & I) can do? When we bought this 20 acres for $75,000.00 in 2001, it also had a 2 bedroom, 2 bathroom mobile home (A 1980) on the property which hadn't been lived in for over 2 years and it was a mess. A mess is a mild word for it really.
So there is photos of what we did to the property, what we knocked down and what we put up and replaced.Then we decided to get a bigger place.
We bought our new home in 2004 and lived in a little 25' travel trailer with 3 golden retrievers where the old house was, and while our new home
was being put on our property.
The 13 Sycamore trees in the front yard was blocking our view, we knocked them all down a year later.
And finally our latest project which we just completed in 2008, is our pond where the trees used to be
and then we added our beautiful green grass in front.
Before the grass the front was a dusty dirt
filled front yard for over 5 years and oh my,
I love my grass and pond.
Ron did a awesome job, and I helped a little too!!!